Spirituality For Life
Page: Personal Background
Home
What is Spirituality?
Aspects of Spirituality
Spiritual Practices
Theology / Spirituality
Misc. Topics
Reflections
Contact Us

PERSONAL BACKGROUND


In one way or another, my wife, Eva, and I have been drawn to the understanding and practice of spirituality for the more than three decades of our married life.
For the past three years, we have pursued a formal study of spirituality – in our case, spirituality with a Christian foundation. Both of us enrolled in Masters Programmes in Australia, with an emphasis in Christian spirituality.
As part of our programmes, we wrote articles dealing with different aspects of spirituality (as well as other Christian topics). We plan to share these articles on the website.
For me, an awareness of the spiritual dimension of life – spirituality – first came through several childhood and adolescent experiences. These included (1) the gift in elementary school of a pocket edition of the New Testament through the Gideons organization; (2) a Protestant pastor and his family living opposite our home and the resultant involvement in church activities such as Sunday School and boys club; (3) and the Billy Graham crusades in Australia in the 1960s.
As a young adult, after completing teacher-training in Australia, I travelled to England to attend a small Christian liberal arts college north of London near the cities of St. Albans and Watford. In an idyllic peaceful country estate setting, the small student body and faculty lived a practical spirituality. Here is how I have described this experience:
'One of the happiest places on earth.' This is how our college founder and president described the small college I attended in England as a young person. Set on a large estate with a lake amidst landscaped grounds in the peaceful, green, rolling countryside north of London – far from the noise and pollution of crowded cities – the college provided an unforgettable setting for living a way of life with practical spirituality as its foundation.
The president's dream was to recapture true values – including a spirituality that would result in a happy and successful life. He deeply understood that we are living in troubled times on an endangered planet. His vision was education for the whole person – the physical, emotional, intellectual, social, and spiritual aspects of life. The educational program was within the context of a safe, orderly environment, and encouraged high standards in the areas of dress and appearance, conduct, as well as in study and work habits.
Students from around the world – the United States, Australia, New Zealand, England, South Africa, and Europe – lived together on campus. We enjoyed each other's company in peace and harmony. Our professors became mentors and lifelong friends. There was courtesy, consideration, cooperation, and goodwill. Our student life was as if in a family atmosphere.
Each morning, we all enjoyed a hearty English breakfast, typically of steaming porridge or toast and eggs, in the campus dining room. Classes followed in well-lit, carpeted and comfortable lecture rooms. They were characterized by love, laughter, and learning; and promoted mutual respect, trust, and recognition of the individual worth of each person. The college aimed at equipping us with the knowledge, skills, and spirituality necessary for participating responsibly and successfully in today's world.
Afternoons were spent working on campus. Our employment opportunities in gardening, cleaning, painting, and food preparation, to name a few, enabled paying off the college bill and gave us the needed balance between study and work. Late afternoons was a time for sports – basketball, soccer, or swimming, depending on the season. Dinner together followed. Evenings were times to study in the library with some time left before retiring to relax and talk in the student lounge.
Graduation arrived with its celebrations, as well as nostalgia in reflecting on the special days gone by. Yet it was a time to go on – the college had given us a spirituality for life, and prepared us to go out and to help make our communities a better place.
In looking back with fond memories, I see more clearly than ever how embedded into our lifestyle was a practical spirituality -- indeed a spirituality for life which has served me for the rest of my life since those days. As students, we began each day with time for personal scriptural reading and prayer. At day's end, again time was taken for reflection and prayer. Some students chose to include a brief time of prayer at noon. At the end of each week, a day was set aside for the purpose of rest, reflection (meditation), fellowship, and a worship service. Once a year, all students and faculty attended a spiritual retreat away from the College in a setting conducive for instruction, recreation, and worship.
A year after graduating from the small liberal arts college, I married Eva Degen in 1976. Together we have travelled on a journey of spiritually. Life presented opportunities for us to live and work in the United States, Europe, South Korea, and one year in the Middle East, before returning to make our home in Brisbane, Australia. Fourteen of the years abroad were spent in teaching English as a second language.

In 2009, Eva launched a website also dealing with some aspects of spirituality. For those interested, the link is: www.truth-and-beauty.org

The truth part of the website contains information and wisdom for life - both physical and spiritual - gleaned from various sources, religious as well as secular.
In the beauty section, several photo galleries display the beauty of nature and art. One of the "greatest of all spiritual teachers is Nature herself" (Timothy Freke, Encyclopedia of Spirituality, 2000).
Now Available
Some may find of interest our new small book entitled Journey to the Divine Within. It deals with the prayer of the heart or meditation, dealt with from a mostly Christian perspective through the reflections of a variety of spiritual writers.
The book has 80 pages, is illustrated with black-and-white photographs, and costs about $8 plus postage.
For a preview, click on the image below.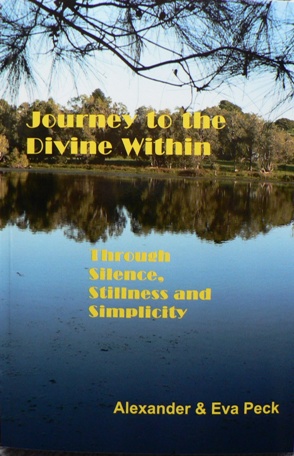 Book about Basic Bible Teachings
We are pleased to mention the publishing of our book Pathway to Life: Through the Holy Scriptures. It covers essential Christian teachings, including a chapter on spirituality.
It has 260 pages, is illustrated with black-and-white photographs, and costs about $13 plus postage.
Pathway to Life presents, in a concise and systematic way, the basic Bible teachings. It strives to offer a balanced, nondenominational approach toward understanding the Scriptures. Where a biblical concept can be interpreted in more than one way, this is acknowledged by presenting alternative views. Conclusions are backed up by scripture references. It is also recognized that some concepts cannot be humanly fully comprehended and of necessity must remain a mystery. While the range of topics is comprehensive, the size and scope of the book do not permit an exhaustive study on any one subject.

The book contains 36 chapters, organized under 12 themes, and is illustrated with black and white photos. Our hope is that it will answer many of the questions that arise in the hearts and minds of those drawn to the reality of the Christian life and spirituality – the pathway to life – and that readers will be drawn deeper into the Way, the Truth, and the Life.
For a preview of the book, click on the image below.
Finally, on a Further Personal Note . . .
Recently, Eva and I published a small book in honour of my father-in-law called Memories of Times with Dad. It contains poems, letters, and photographs of our times together in the last four years, since we returned from our work overseas and costs about $23 plus postage.
For a preview, click on the image below.
To see our other books, please click here.
Postscript:
The idea of sharing articles on this website came as an inspiration from my father-in-law, Jindrich [Henry] Degen. After retiring from the Melbourne Symphony Orchestra over 30 years ago, Henry devoted his life to painting (which he had begun prior to his successful music career).
Recently, Eva built a website for her father so that his over a hundred paintings - some with a theme of spirituality - could be displayed in galleries on his site, rather than remaining hidden in his Queensland, Australia home. It soon became heart-warming to see the number of visits and responses received to the sharing of his artistic gifts. (For those interested, the link is: www.henrydegen.com)
Namaste with love,
Alexander Peck
Home
Spirituality for Life
Interfaith Spirituality
Underlying Premises
Namaste
What is Spirituality?
Christian Spirituality
Spirituality and Human Existence
A Broader View of Spirituality
Descriptions of Spirituality
Reaching One's Potential
Authentic Christian Spirituality
What Is Christian Spirituality
Three Elements of Spirituality
Spirituality and Religion
Community Aspect of Spirituality
The Cycle of Spirituality
Aspects of Spirituality
Acceptance
Enlightenment
Forgiveness
Forgiveness - Four Steps
Forgiveness - Vital Aspect
Forgiveness - Crucial Element
Forgiveness and Health
Forgiveness - 10 Truths
Grace
Hiddenness of God
Jesus
Living with Paradox
Non-Judgment
Suffering
The Paschal Mystery
The Trinity
The Triune God
Trinity Reflections
Spiritual Practices
Communing with God in Nature
A Country Garden
Roses
Sea and Sky
Spring Flowers in Australia
Sunrise and Sunset
By the Lake
By the Sea
Australian Countryside
Springtime Flowers
Spring Flowers
Country Lake
Lakeside
Sunrise Splendor
Seaside
Late Spring Flowers
Early Light
Afternoon
Coastline
Morning Walk
Flower Festival
Quiet Waters
Community
Contemplative Living
Contemplative Prayer Overview
Contemplative Path
A Heart Experience
The Contemplative and Active
Lectio Divina
Mantras
Meditation
Christian Meditation
Meditation to Meaning
Meditation on Death
Death of Two Young Men
Mindfulness
Mindfulness Overview
Mindfulness in Everyday Life
Prayer - Lord's Prayer
Theology / Spirituality
Introduction to Spirituality
Formative Spirituality
Prayer and Prayerfulness
Spirituality of the Heart
Spirituality of Pastoral Care
Spiritual Autobiographies
Writings on the Spiritual Life
The Psalms
Ten Genres of Psalms
God's Kingship in the Royal Psalms
Psalms-Language of Prayer
Psalms 44 and 104
Vengeance Is God's
The Hiddenness of God
Liturgical Spirituality
Liturgy and Spirituality: Definitions
Liturgical Spirituality: Implications
Anglican Spirituality
Book of Common Prayer
Ecology, Cosmology, and Spirituality
Our Picture of the Universe
Mystery at End of Universe
Evolution and God
The Scientific Priesthood
The Ecological Age
Contemporary Economic Model
Aboriginal and Biblical Creation Accounts
Aspects of Aboriginal Religion
Reflections on Nature and Spirituality
Historical Spirituality
Theology
Biblical Studies
Old Testament
Creation Theology
Notes from My Notebook
Theodicy: Evil if God Is Good?
Is Suffering from God?
Belief in a Creator God: Implications
New Testament
Christology
The Church
History of the Early Church
Mission of the Church
Christian Education
Misc. Topics
Exploring Spirituality
Timeless Spirituality
Lord's Prayer Spirituality
Spirituality and Lord's Prayer
A Spirituality Sequence
Spiritual Traditions
Spiritual Classics
Reflections
Spirituality Snippets
Spirituality Quotations
Loving Kindness Meditation
Francis of Assisi Prayer
Prayer of Trust
Prayer to Perceive God
Prayer for Strength and Love
Abandonment to God
Look Well to This Day
God Is Love
New Identity in Christ
Learning and Growth
Nature of Truth
Desiderata
God and Creation
Anger of Another
Sacramental Life View
The Resurrection
Mystical Wisdom
Islam's Inclusiveness
Love, Joy, Obedience
Peace of Mind
Peace Versus Violence
Later Life Spirituality
Reminiscence
Longevity and Spirituality
Thoughts about Life
Thoughts on Life and Death
Contact Us
Privacy Statement
Personal Background